7 Hard Skills ... Must Possess
7 Hard Skills That Every Java Developer Must Possess
It seems that the title parties at home and abroad are the same.
Source:7 Hard Skills That Every Java Developer Must Possess | by Bora Erbaşoğlu | IF YOU DONT KNOW THIS ARTICLES YOU ARE NOT A DEVELOPER — YOU MUST KNOW THESE — BEST PRACTICES | Medium
Mind Map
7 Hard Skills That Every Java Developer Must Possess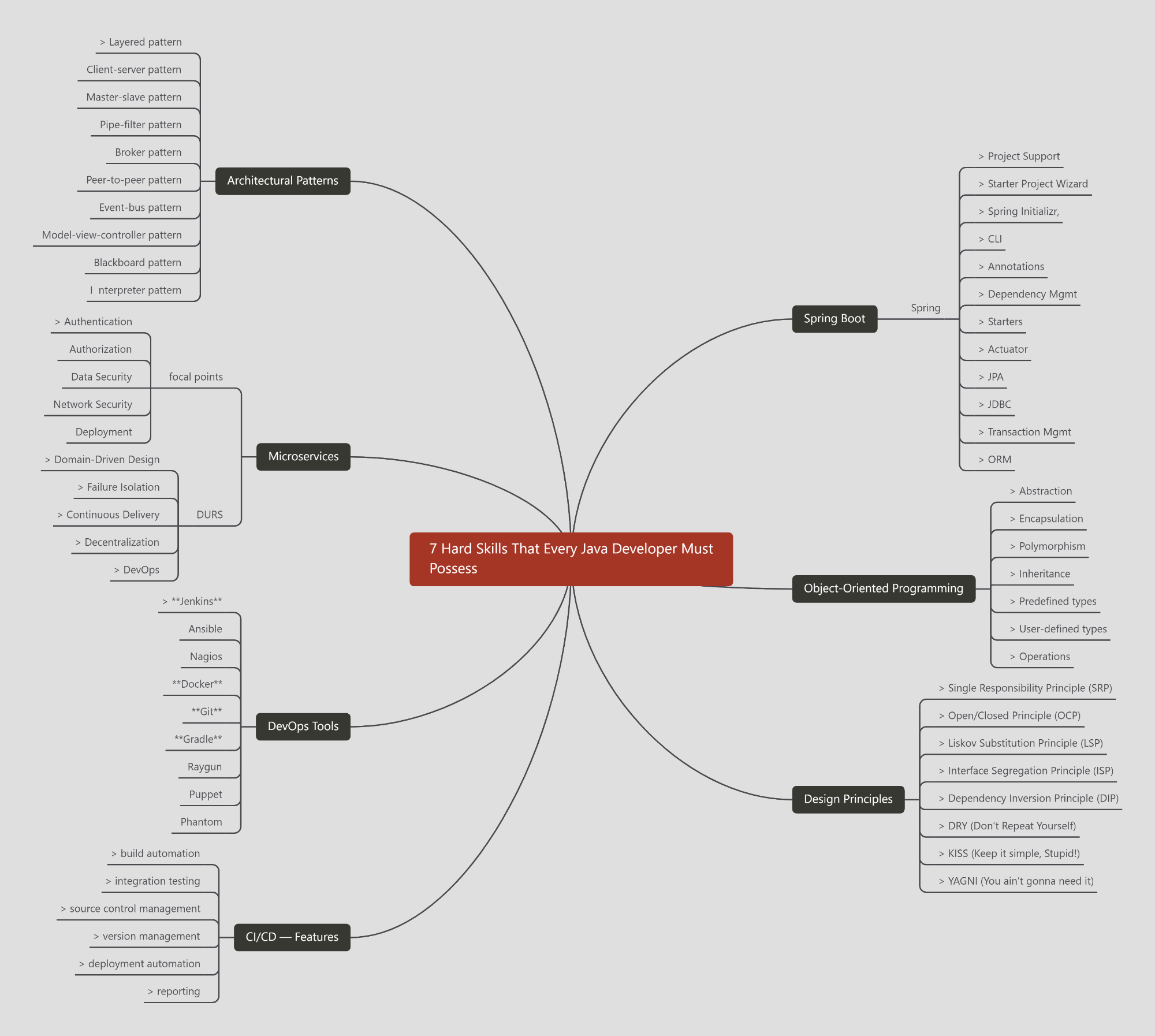 Spring Boot
Spring framework employs the dependency injection principle. It also uses the Model View Controller Pattern as a foundation.
The Spring framework is the foundation of Spring Boot. It is utilized for web application development employing agile and fast prototyping techniques. Among the characteristics of Spring Boot are:
Project Support
Starter Project Wizard
Spring Initializr,
CLI
Annotations
Dependency Mgmt
Starters
Actuator
JPA
JDBC
Transaction Mgmt
ORM
Object-Oriented Programming
Object-Oriented Programming (OOP) includes:
Abstraction
Encapsulation
Polymorphism
Inheritance
Predefined types
User-defined types
Operations
Design Principles
The design principles echo the following design patterns.
The following are the main design elements that are crucial for Java developers:
SOLID Principles
Single Responsibility Principle (SRP)
Open/Closed Principle (OCP)
Liskov Substitution Principle (LSP)
Interface Segregation Principle (ISP)
Dependency Inversion Principle (DIP)
DRY (Don't Repeat Yourself)
KISS (Keep it simple, Stupid!)
YAGNI (You ain't gonna need it)
Architectural Patterns
Layered pattern
Client-server pattern
Master-slave pattern
Pipe-filter pattern
Broker pattern
Peer-to-peer pattern
Event-bus pattern
Model-view-controller pattern
Blackboard pattern
I nterpreter pattern
Microservices
The Docker Container must be understood by developers. The DURS principles, which form the cornerstone of Microservices, must be known by developers.
DURS principles are:_
Domain-Driven Design
Failure Isolation
Continuous Delivery
Decentralization
DevOps
The focal points are:
Authentication
Authorization
Data Security
Network Security
Deployment
DevOps Tools
In addition to the common DevTools, this post lists other unfamiliar tools, Bold marks for domestic common tools.
Jenkins
Ansible
Nagios
Docker
Git
Gradle
Raygun
Puppet
Phantom
CI/CD — Features
Developers should become familiar with the following CI/CD tool functionalities.
build automation
integration testing
source control management
version management
deployment automation
reporting
End
This article feels like a simple list, but it's all technology stacks to master
作者介绍